Remembering the 2018 Smithsonian Water|Ways exhibit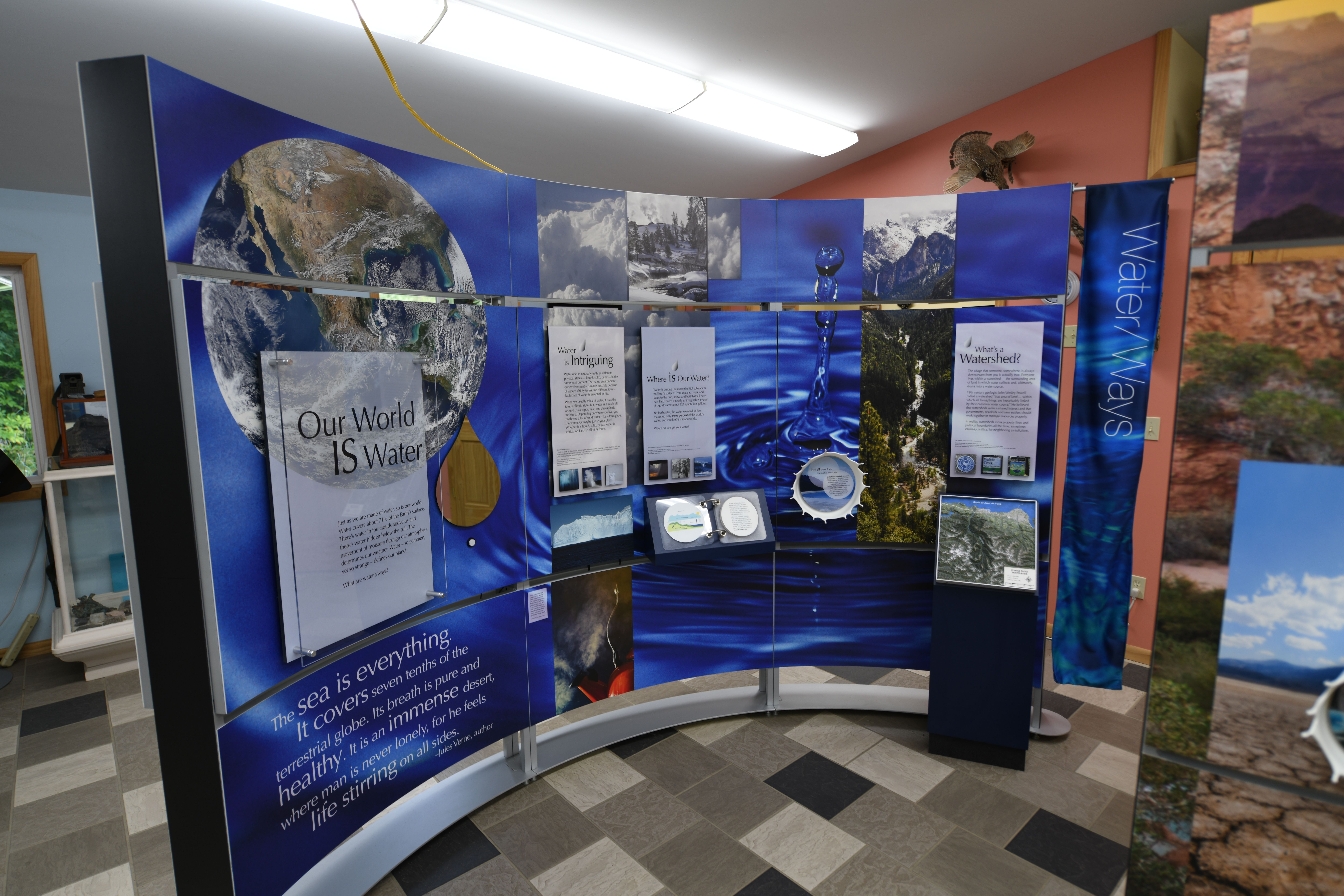 Raven Hill was pleased to host the Smithsonian Museum on Main Street Water/Ways exhibit tour in 2018. Raven Hill partnered with the Michigan Humanities Council to present Water/Ways at the Center from August 11 to September 23 of 2018. The community was invited to a special opening of the Water/Ways Exhibit on Saturday, August 11, 2018 at 4pm and the exhibit opened to the public earlier that day. Many water-related programs were presented by Raven Hill and local water, history and arts organizations over the course of the six-week exhibit both at Raven Hill and at other sites in the community. This Smithsonian Water/Ways exhibit was a chance to highlight for the community-at-large the importance of northern Michigan's water as a natural resource to be treasured, as well as water's historical and cultural importance in this area.
If you have questions or need more information, feel free to call Cheri at 231.536 .3369 or email info@miravenhill.org
The Water/Ways Program Booklet is a detailed description of all the water-related events occurring in conjunction with the Smithsonian Water/Ways Exhibit, including the schedule of events throughout the community, exhibit information, conservation information and details about the Water/Ways Passport Program.

Check out this comprehensive list of events, speakers, classes and workshops that happened at Raven Hill and throughout the community during August and September--all celebrating the science and culture of our beautiful waters.

Over 3200 visitors enjoyed the national Smithsonian Water/Ways exhibit over the course of the its six-week stay at Raven Hill. Weekend events, art exhibits and displays, speakers and authors, classes and workshops, school fieldtrips, as well as community events all enhanced the exhibit by highlighting the science and culture of water.

A collaboration between Raven Hill Discovery Center and the Smithsonian Museum on Main Street (MoMS) program, the completed exhibition Labor Days: A History of Work will bring to light the who, what, where, why and how of Northern Michigan at work, and how it fits within the nation's broader history. It explores the places Americans work, and how work became such a central element in American culture by tracing the many changes that affected the workforce and work environments over the past 150 years. By incorporating local elements, each of the ten participating communities throughout the United States will have an engaging exhibition specific to their location. Look for this exciting exhibit and related events to come to Raven Hill August 14 to September 30 of 2021.